How do you communicate the impact of what your organisation does in a powerful and convincing way?
You may have your evidence – your facts and figures – but how do you put it across in a way that connects with your audience? Or you may still be at the start of your research – what approach should you take to understand the impact you have made? It's not just about facts and figures.  It is both your story and the story of those with whom you work.
In this programme of workshops we look at two stages within the reporting process that many organisations find particularly challenging: storytelling and data visualisation. We'd like to share with you what we have learned through expert practitioners in these two areas with examples of how we have used this expertise in our own work.
In the Storytelling workshop, learn to listen to uncover people's stories that you can then tell in communicating your impact.
In the Data Visualisation and Presentation workshop, learn to make the most of data sets to tell complex stories of your impact visually in a way that has real meaning for your audience.
If you attend both workshops, you will be fully equipped with the tools, confidence and energy to communicate the difference that your organisation makes through stories, charts, infographics and more.
There is a discount if you book a place on both workshops on the same booking form. If the dates suit you, we suggest you attend the Storytelling workshop first but as both stand on their own this is  not necessary.
---
Storytelling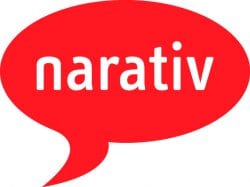 Learn how to harness the power of your stories to influence and inspire stakeholders. This experiential workshop will help you to communicate complex ideas or to influence a challenging audience. It will enable you to uncover stories and to learn and practice using new tools that make these stories as vivid and memorable as possible.
The content and exercises are structured around Narativ's Listening and Storytelling Method.
The day will be introduced and set in the context of reporting on and communicating impact of your project, research or business.
What you will learn:
Why tell a story? The science behind why stories are the most powerful way to connect with other people.
Listening – Understanding the importance of listening in creating a space where great stories can emerge.
Storytelling elements – what makes a story something people will remember? Learn the simplicity of key storytelling skills which will leave powerful and memorable images in the minds of the listener.
What's your story? How to find the human stories at the heart of research and complex ideas, and using them to make your ideas relatable.
Engaging empathy – how to connect with your audience through identifying and describing 'what happened'.
Storytelling to influence – how to tell stories which communicate values and beliefs, meaning and message.
Ways to apply stories – exploring the diverse applications for storytelling in any organisation: leadership, advocacy, communications, team-building, on-boarding etc.
Who should attend this workshop:
Anyone who needs to bring complex issues and ideas to life, who needs to advocate for something, or who is seeking to invigorate their own communication techniques, to make them more vivid and memorable.
The course is delivered by:
Dan Milne & Jane Nash, Directors & Lead Trainers, Narativ
Narativ is based in London and New York. The company's mission is 'a world connected by listening and telling stories'. Since 2004 they have been working with individuals and organisations worldwide to teach them how to make the most powerful use of their stories. Jane Nash and Dan Milne are theatre practitioners who have been working as coaches in business for over 20 years. They worked with NEF Consulting on the Knee High Challenge project for The Design Council. Narativ's clients include The Fairtrade Foundation, Open Society Foundations, The Finance Innovation Lab, International Federation of Transport Workers, SAID Business School, HBO, Turner Contemporary and The Design Council.
---
Data Visualisation and Presentation
How to turn a raw set of data into a compelling visual story that communicates your impact.
You will learn to:
Identify the story in your data: identify correlations, clusters or patterns and turn them into infographics.
Frame and tailor the story for a specific audience.
Develop this for different formats, learning about the key considerations for each.
Spot the quick wins and avoid common mistakes when visualising data.
Apply best practice in data visualisation, understanding how to present data in the clearest manner.
Take your data to the next level with the use of dashboards.
Find and use the best software and online tools.
Who should attend
Anyone who is responsible for communicating the impact of their projects, organisations or services. It will be broadly applicable but may be of particular interest to those with social value measurement or research responsibilities.
The course is delivered by:
Laura Knight, designer and educator 
Laura is a designer and educator with a specialism in information design and data visualisation. Until 2016 she was the Design Director at Data Design Studios in Shoreditch. She now works freelance developing data communication solutions for a range of global clients. She also works with the Guardian, running bespoke training in data visualisation for clients all over the world and lectures in Information Design and Infographic Storytelling at the University of the Arts, London.
As Design Director at Data Design Studios, Laura worked with NEF Consulting on an infographics project, Healthy Returns from Sustainability Actions for the NHS Sustainable Development Unit.
"[Laura was] very knowledgeable and experienced … has worked with multiple clients so was able to answer a wide variety of questions and make the content relevant to all." Jorge Castro, IKEA, November 2017

"Laura made something I feel quite challenging into something achievable." Kelly Bradley, Community Investment Manager, Tideway, November 2018

"A brilliantly delivered session and I learnt a great deal – thank you!" Joel Llewellyn, Interim Policy and Research Officer, People's Health Trust, November 2018

"Laura made the course really interesting and simple to understand." Lucy Horne, Impact & Evaluation Officer, Saints Foundation, November 2018
---
Who should attend
This programme is for anyone who is responsible for communicating the impact of their projects, organisations or services. It will be broadly applicable but may be of particular interest to those with social value measurement or research responsibilities.
---
Prices, dates and venue
Storytelling
Price: £345  or, for a registered charity, £305
Data Visualisation
Price: £345  or, for a registered charity, £305
Communication Impact Programme
If both workshops are booked on the same form:
£575 or, for a registered charity: £525

All courses are subject to U.K. VAT.  Fee includes refreshments and lunch on both days, as well as training materials.
See our terms and conditions 
For more information, and a discount on our open training programme, sign up to our newsletters here