NEF developed the SROI methodology in the UK and now NEF Consulting offers a range of products, including a 2-day Social Return on Investment (SROI) training course we have been delivering since 2009. You can read just some of our testimonials at the bottom of this page.
"Sarah [the trainer] was excellent. She was knowledgeable and understood the process inside and out. I valued how she drew on her own experiences and was able to answer questions that were relevant to me." – Dorry Price, Sustainability and Climate Change Consultant, WSP, October 2018
"A great introduction for anyone wanting to start thinking about using SROI in their organisation." Helen Mayor, York CVS, September 2017
---
Our next accredited SROI Training course is in London 26 June 2019. Click here to book.
We also offer a 1-day briefing on Social Return on Investment – the next date is 9 May but, if you have 3 or more people we can deliver this briefing just for your organisation.
---

About the accredited course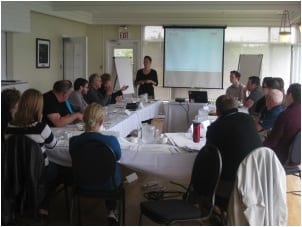 NEF Consulting's SROI training is facilitated by assured SROI practitioners, and counts towards accreditation as an assured practitioner.
It covers all the methodology and practice needed to carry out an SROI analysis. It combines a thorough understanding of the theoretical policy background to SROI and its long-term benefits, with a step-by-step guide to the SROI methodology backed up by a range of practical group exercises.
It is designed to equip participants with the knowledge and skills necessary to use SROI and its findings, and to undertake SROI analyses for themselves.
---
What makes this course different
This is the only accredited course that incorporates building an SROI model on a spreadsheet rather than as a paper and pen based exercise.
It draws on the extensive SROI experience of a team based at the New Economics Foundation (NEF) and NEF Consulting. NEF co-wrote the Cabinet Office Guide to SROI.
We offer a series of follow-up workshops to build the skills of practitioners, such as Creating a Theory of Change. Please contact us to find our more.
As part of your training package, you can purchase up to 3 hours email/telephone post-training support for an additional cost of £300 + VAT if taken within six months of attending a course.
---
 Our upcoming training sessions are below. All sessions run from 9.30 to 17.00.
---
Two-day accredited SROI training dates
26-27 June 2019 – London. Book here by 1 May.
Prices for courses in 2019*
SROI Training standard rate                               £570
SROI Training registered charity rate                £520
Payment must be received at least 2 days before the course date. *All courses are subject to U.K. VAT. Fee includes refreshments and lunch, as well as training materials.
See our terms and conditions 
---
We also offer a 1-day briefing on Social Return on Investment – the next date is 9 May  but, if you have 3 or more people we can deliver this briefing just for your organisation.
---
Who will be running the course?
Sarah Arnold, Associate, NEF Consulting
Previously an Economist with NEF Consulting, Sarah has a strong background in quantitative data analysis and econometrics, with specific expertise in exploring complex datasets to gain useful insights. She has worked on many of NEF Consulting's more complex analytical projects. Clients include the NHS, PHE, the Department of Culture, Media and Sport, Shelter, WWF, and the Prince's Trust.
Sarah is an accredited SROI practitioner, and expert in developing and putting into action social value frameworks. She enjoys working with individuals and organisations to improve their skills and enable them to understand concepts that will help them be truly effective.
For more information click here.
---
Bespoke training
We also offer bespoke training on SROI.  For more details, including costs, please contact us at enquiries@nefconsulting.com 
---
Please sign up here for occasional updates on training and more. You can unsubscribe at any time.
---
Testimonials
"Very informative and useful – the training is a great way to understand and quantify our social impact." Rhiannon Maniatt, Monitoring & Evaluation Officer, October 2017
"[The training] was very helpful, well-paced and covered lots of ground. I feel well equipped to start and SROI myself" Catherine Hurst, Natural Futures Manager, Cheshire Wildlife Trust, September 2017
"[The facilitator is] very knowledgeable and clever – a good trainer." Samir Singh, Arsenal FC, December 2015
"[I would recommend the course]  for anyone interested in understanding more about social value and impact measurement using SROI."Carley Centen, ImpactMetrics, November 2015
"[The facilitator was] very knowledgeable, great accessible delivery, perfect!…Thoroughly enjoyable, I got so much out of it." Shelley Seed, White Label Sustainability, August 2015
"I think many people at the HIN will benefit from this for their individual projects." Sally Lawton, Health Innovation Network, June 2015
"Good, clear and well presented." Fran Healy, Hebden Bridge Community Association, March 2015
"Really brilliant course – Thank you!" Kelly McInnes, Northern Star, December 2014